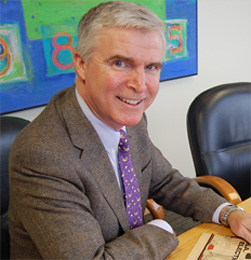 For nearly 30 years, Dale A. Rocheleau has been serving businesses and non-profit organizations as a lawyer and business executive. He is a dynamic forward-thinker who serves as strategic advisor providing insightful analysis and sound judgment to help clients develop and execute successful business plans.
Highlights
Senior vice president and general counsel for a public company listed on the NYSE (2003-2012). Managed governance, risk, compliance and external affairs in a challenging regulatory environment including investor and media relations, and customer, employee, community and government communications.
Served as associate and later director and shareholder at Vermont's largest law firm (1986 to 2003). Held responsibility for budget, policies and staff of Regulated Entities Group, consisting of 21 attorneys and paralegals in six practice areas assigned to matters involving government agencies.
Developed reputation as a trusted and effective advocate for clients at highest levels of Vermont state government, including the Vermont legislature, executive agencies and quasi-judicial boards.
Coordinated a successful congressional campaign against an incumbent Member of Congress. Organized and managed a new congressional office. Drafted legislation enacted by Congress affecting merchant shipping and protection of the Chesapeake Bay.
Education:
Georgetown University Law Center, J.D. 1986
University of Vermont, B.A. 1980
Admissions:
Vermont; U.S. District Court for District of Vermont
Memberships & Professional Activities:
American Bar Association; New England Legal Foundation; Northeast Energy & Commerce Association; Vermont Bar Association
Honors & Awards:
University of Vermont Alumni Association Distinguished Service Award, 2008
Community Involvement:
Dale is a member of the University of Vermont's board of trustees, a position he has held since 2010. He currently serves as chair of the board's Audit Committee. Dale served as director of the Rutland Economic Development Corporation from 2007 to 2013, where he served as board president from 2011 to 2013. He served as chair of the Vermont Water Resources Board from 1991 to 1993, director of the Vermont Business Roundtable from 1998 to 2002, advisor to the governor of Vermont on the Governor's Council of Environmental Advisors from 2003 to 2011, and director of Cynosure Inc. from 2003 to 2010, where he served as board chair from 2009 to 2010. He served as a director of the Lund Family Center from 1994 to 2001, president of the University of Vermont Alumni Association from 2002 to 2004 and trustee of the Vermont Historical Society from 1999 to 2005.